Building Trades Network Member of the Week

Rob Sheets – Your Electrician

Rob began his electrical journey as an electrician in the Navy's nuclear power program. He attended electrical "A" school and Nuclear Power School in Charleston, South Carolina before joining the USS Jefferson City home ported out of San Diego, CA.
After serving 6 years in the Navy, Rob moved on to gather industrial experience in power plants, as well as the mining, oil, and natural gas industries. During this time he not only honed his technical electrical expertise, but he also became a certified fire fighter, first responder, rope and confined space rescue team member, hazmat technician, and served on various safety committees for several companies.
Along the way, Rob trained and studied in residential and commercial electrical practicum, obtaining his California journeyman's license and then his electrical contractor's license. He founded Your Electrician in 2012, choosing the name that paid homage to some sailor jokes going back to many long days on deployment onboard the USS Jefferson City.
Residential Services
Some of the many residential services "Your Electrician" provides:

Panel Clean and Inspections
Panel Repair and Troubleshooting
Recessed and Surface Mount Lighting
Outlets / Receptacles
Ceiling Fans
Outdoor Lightingshooting Panel Upgrades/ Repairs
Home automation
Generator / Solar Power Integration
Dedicated Circuits
Spa Circuits
Electric Vehicle Charging Station Circuits
Thermal Imaging / IR Inspection Programs
Commercial Services
We specialize in many fields and understand your time is valuable. We get the job done fast and spend minimal time in the workplace to ensure your place of business gets back on track with all its electrical needs. Some of the many commercial services "Your Electrician" provides:

Thermal Imaging / IR Inspection Programs
Hi-Bay Lighting
Office Lighting
Circuit Relocation
Outlets / Receptacles
Troubleshooting
Panel Upgrade / Repair
Dedicated Circuits
Ballast & Lamp Replacement
Spotlights
Recessed Lights

Industrial Services
In addition to custom tailored thermal imaging / IR inspection programs, we also offer a Safety, Work Controls, and Lock Out / Tag Out consultation service for our industrial and production customers! We have the experience and knowledge to get your Total Recordable Incident Rate (TRIR) reduced! Some of the many industrial services "Your Electrician" provides:

Thermal Imaging / IR Inspection Programs
Custom Lock Out / Tag Out Program Development
Lock Out / Tag Out Audits
Troubleshooting
Lighting
Surge Suppression
Project Consultation
Repair
Equipment Relocation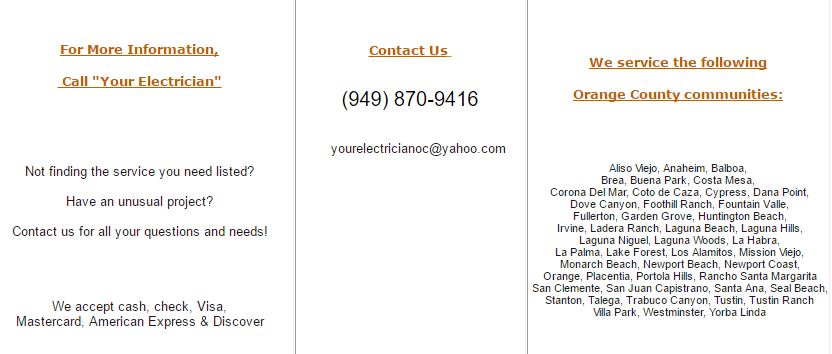 Website: http://www.yourelectricianoc.com
Follow on Facebook: https://www.facebook.com/YourElectricianOC/